ANGELS and MIRACLES
I was in a meeting this morning where the conversation drifted to auto accidents. I told the group I had never been in an accident. Several people quickly "knocked on wood" and told me not to push my luck. Luck? What does luck have to do with it?
It was an August midnight when I headed towards my car after working all day illustrating ministry materials. My car was parked outside in the street. I turned on the ignition but the battery was dead. I realized I arrived in that office very early that morning when it was still dark and had left my headlights on. I tried to push and get the manual transmission going but the car was too heavy. It wouldn't budge. There was no one around. I was resigned to sleeping in the car until someone could help. Frustrated, I started a conversation with God asking him if I deserved this. I mean, here I was --- doing ministry work and then this? To my surprise a man started limping towards me from behind. He volunteered to push the car. I laughed because if I couldn't push the car, what more for this limping man? But he insisted so I got in the car while he pushed. Incredibly, the car started. This limping little man had the strength of an ox. I was overjoyed and offered to drive him home but he pointed at the shanties in the distance and said his house was just a few blocks ahead. So I drove my car and left. A few seconds later, I didn't feel right and decided to go back to insist and take him home. I turned around the short block but when I got to the spot where I expected him to be, he was gone. There was no way he could have limped that far and that quickly. The street was empty. An angel? What do you think? If I never turned around would I have noticed?
Sometimes God does strange and wonderful things for us and we shrug them off as luck. Do we dare classify them as miracles? Some say that If it brings joy and transcends explanation and (most importantly) if it brings glory to God, then it's a miracle. But I say miracles happen all the time. Luck has nothing to do with it.
I'm looking forward to my conversation with God when he will point out the many miracles that I never noticed. Have you met any angels lately? Witnessed a miracle? Think again because I bet you have.
Wisdom from Tom of Pasadena, CA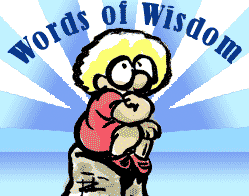 The One who loves you will never leave you because even if there are 100 reasons to give up, he will find one reason to hold on.

Thanks to this week's winners:
Tom and Art of Pasadena; Mike of New York; Charlie of New Jersey; Don of Kelowna; Jody of Vancouver; Chuck of Whittier.

This email is dedicated to all the workers of the world! As you know, I just re-send the best joke(s) and entertaining emails I get from people all over the world. Then I add my own original drawings (which I create on the spot as I put this email together) to give it a personal touch. Most of the time I create this a few hours before Friday midnight so if you catch a few typos, blame my tired mind and fingers. If this is your first time to receive this, welcome to a new and (hopefully) entertaining addiction.


And he said to them, "Why are you afraid, O you of little faith?" Then he rose and rebuked the winds and the sea, and there was a great calm. And the men marveled, saying, "What sort of man is this, that even winds and sea obey him?"
--- Matthew 8: 26-27