HAPPY THANKSGIVING
If you have a Roku player and have the PBS channel loaded, you should watch the 2014 Mark Twain Award tribute to Jay Leno while you still can. The full version is not available on the web. My laughter woke my wife up. I am thankful for are comedians like Jay who didn't have to be mean to get a laugh, or throw expletives to shock you. Jay was always a great pal to see every night just before you turned to sleep. I was fortunate to have seen the live show twice. It should have been 3x but I missed the cut-off in the long line when George Clooney was his guest and his entourage of friends bumped all of us simple folk away.
I guess we all can be thankful for God's gift of laughter that is a natural antidote to our stress. Blessed are those who have the ability to enjoy life more than others. I am thankful to have friends like you who receive this TGIF email every Friday morning. Hard to believe I've been spreading joy through these TGIF emails since I started way back in 2003. Though we may not have spoken, it's as if we've known each other for so long. We've shared anecdotes and I've prayed for so many concerns. Joy comes from knowing that the little things I do can brighten the day of so many people. Thank you for being part of this onging Friday morning ritual.


"Rejoice in the Lord always. I will say it again: Rejoice!" ---Philippians 4:4
Wisdom from Rey of Simi Valley, CA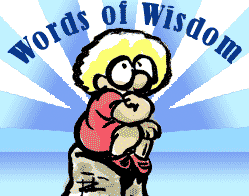 For the rich, there's therapy. For the rest of us, there's chocolate.
Thanks to this week's winners:
Tom of Pasadena, CA; Mike and Ernie of New York; Rey of Simi Valley, Dette of Dalipuga.

This email is dedicated to all the workers of the world! As you know, I just re-send the best joke(s) and entertaining emails I get from people all over the world. Then I add my own original drawings (which I create on the spot as I put this email together) to give it a personal touch. Most of the time I create this a few hours before Friday midnight so if you catch a few typos, blame my tired mind and fingers. If this is your first time to receive this, welcome to a new and (hopefully) entertaining addiction.